Golden Ratio (Cash Paintings)

2014—Present



Cash paintings sold at the values represented.
New paintings are made only when the previous ones have sold.
Values determined by the Fibonacci sequence.

When I first got involved in the art world, I couldn't understand the economics. How do you price an artwork? What makes one work more expensive than another? I didn't want to be at the mercy of forces I didn't understand so created my own market system.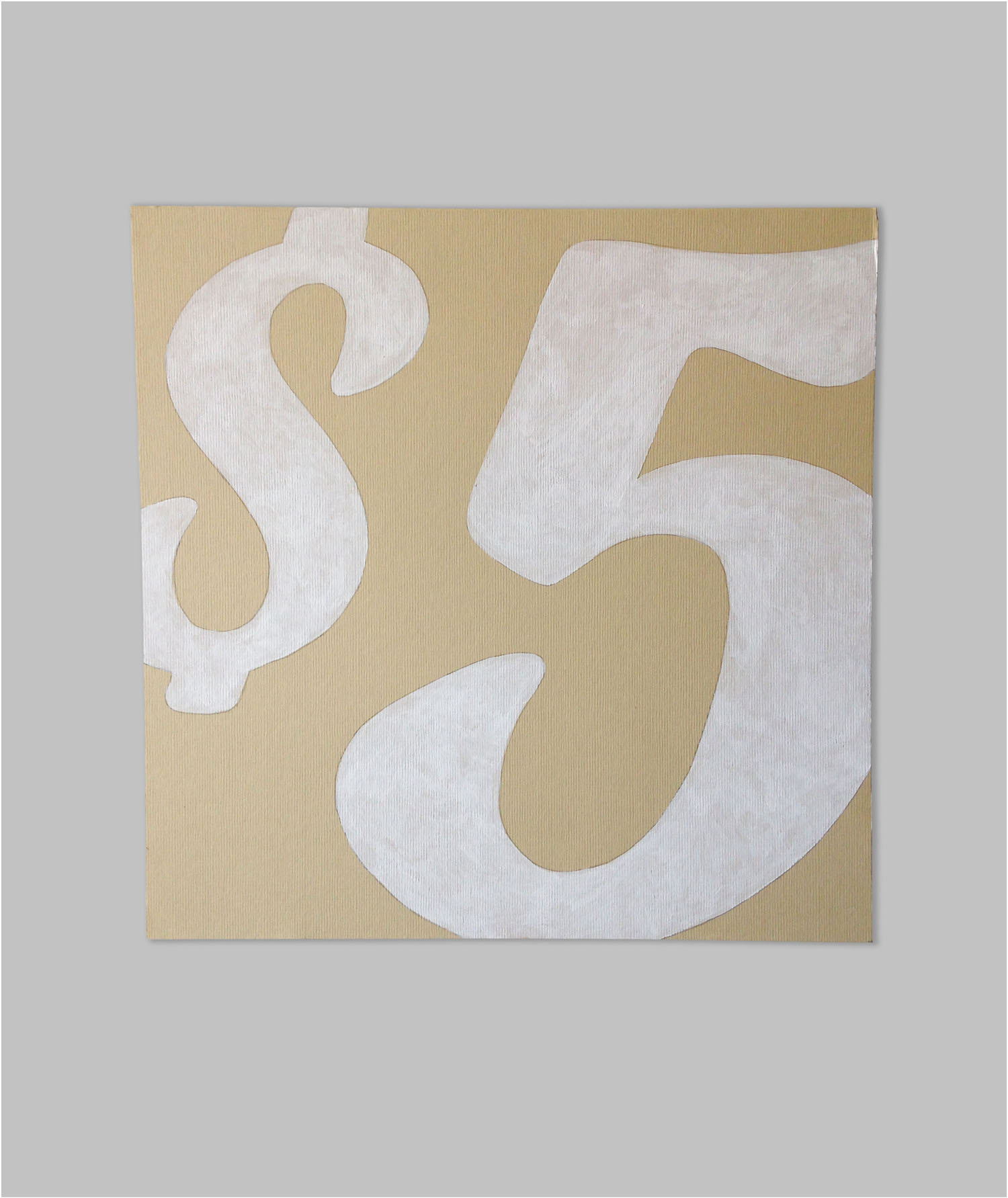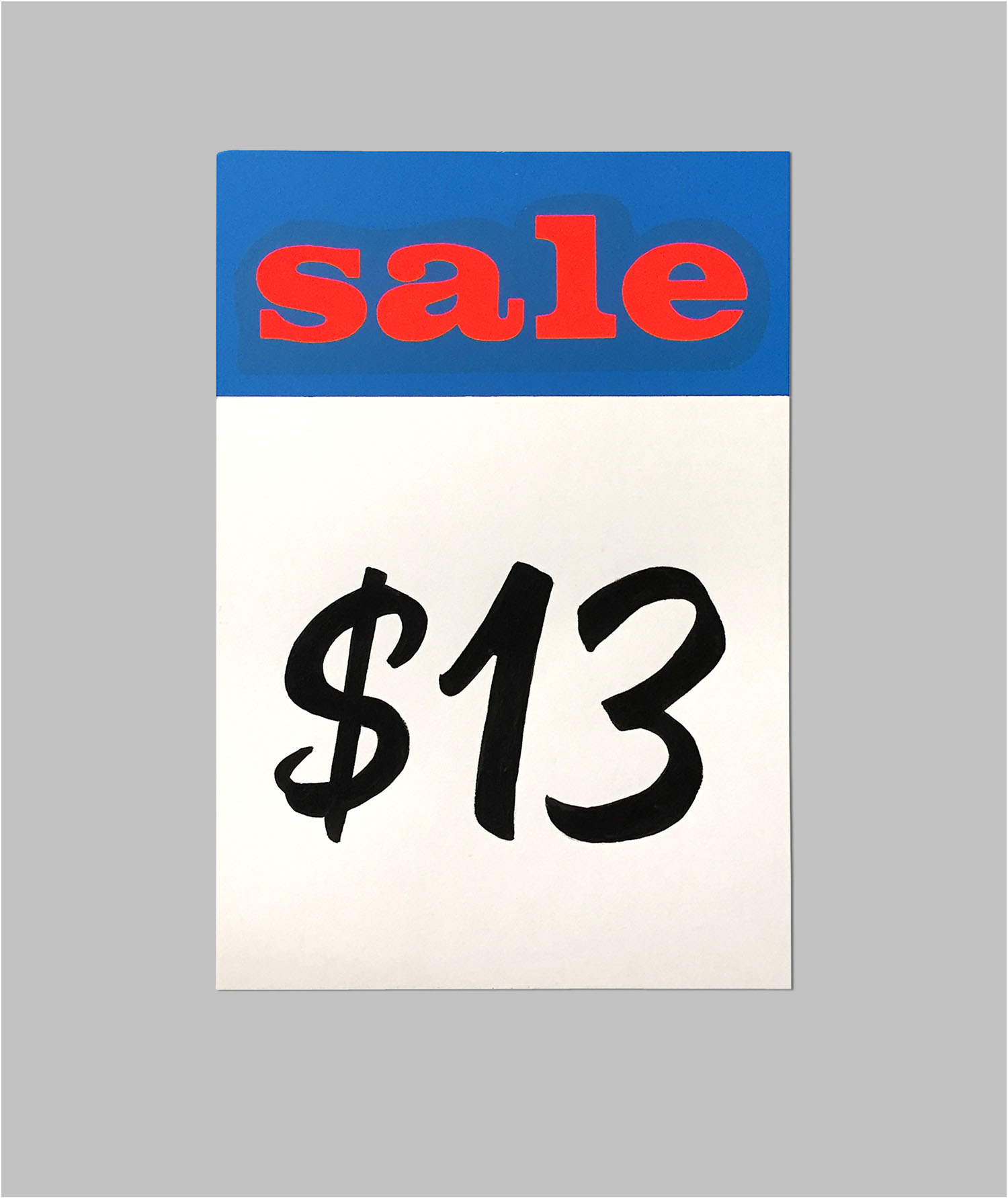 0 1 1 2 3 5 8 13 21 34 55 89 144 233 377 610 987 1597 2584 4181 6765 10946 17,711 28,657 46,368 75,025 121,393 196,418 317,811 514,229 832,040 1,346,269 2,178,309



---

List of works
Date of production
Owner
Medium
Dimensions

---
Zero Dollars

14 February 2014

Artist's collection

Acrylic and Poster paint on acid-free mountboard

17x15cm (6.7x5.9 inches)



One Dollar


17 February 2014

Gift to the artist's partner

Matt Emulsion and Acrylic paint on found canvas

24x30cm (9.4x11.8 inches)

View print edition

(Produced on the 3 October 2017. Released 10 October 2017)


One Dollar
9 March 2014
Gift to the artist's daughter
Acrylic and gouache on found canvas
20x20cm (7.9x7.9 inches)

Two Dollars
10 March 2014
Purchased by Jonathan Lewis
Acrylic on mount board
25x37.5cm (9.8x14.8 inches)

Three Dollars
12 March 2014
Gift to the Artist's parents
Acrylic on mount board
17.5x27cm (6.9x10.6 inches)

Five Dollars
28 July 2014
Purchased by Andreas Schmidt
Acrylic and pencil on mount board
30x30cm (11.8x11.8 inches)

Eight Dollars
14 August 2014
Purchased by William Hall
Acrylic and pencil on canvas
35.6x28cm (14x11 inches)

Thirteen Dollars
10 September 2014
Purchased by Markel Redondo
Acrylic and screenprint on card
20x12cm (7.9x4.7 inches)

Twenty-One Dollars
24 November 2014
Purchased by Andy Moseley
Acrylic and pencil on cardboard
45x62cm (17.7x24.4 inches)

Thirty-Four Dollars
28 November 2014
Purchased by Matt Raikes
Acrylic and oil on canvas board
56x45cm (22x17.7 inches)

Fifty-Five Dollars
16 December 2014
Purchased by Ed Watts
Acrylic on board
40x30cm (15.7x11.8 inches)

Eighty-Nine Dollars
18 December 2014
Purchased by Daniel Rourke
Archival pigment print and acrylic on German Etching paper
65x46.6cm (25.6x18.3 inches)

One-Hundred and Forty Four Dollars
19 December 2014
Purchased by Nancy Newberry
Acrylic on board
42x29.6cm (16.5x11.7 inches)

Two-Hundred and Thirty Three Dollars
22 December 2014
Purchased by Jay Gort
Laser catridge toner on paper
29.7x21cm (11.7x8.3 inches)

Three-hundred and Seventy-Seven Dollars
2 February 2015
Purchased by Dave Vickers
Acrylic paint and pencil on MDF board
50.5x60.5cm (19.9x23.8 inches)

Six-Hundred and Ten Dollars
12 June 2015
Purchased by Ian Mitchell
Acrylic paint on canvas
60x70cm (23.6x27.6 inches)

Nine-Hundred and Eighty Seven Dollars
4 July 2015
Purchased by Priska Pasquer
Acrylic paint on canvas
50x70cm (19.7x27.6 inches)

One Thousand Five Hundred and Ninety Seven Dollars
8 July 2015
Purchased by Richard Misrach
Acrylic paint on canvas
76x61cm (30x24 inches)

Two Thousand Five Hundred and Eighty Four Dollars
24 July 2015
Purchased by Timon Botez
Acrylic paint on canvas
60x89.5cm (23.5x35 inches)

Four Thousand One Hundred and Eighty One Dollars
26 July 2015
Purchased by Nion McEvoy
Acrylic paint on canvas
76x102cm (30x40 inches)

Six Thousand Seven Hundred and Sixty Five Dollars
16 September 2016
Purchased by Jeffrey Fraenkel
Enamel paint on sandblasted Star Galaxy granite
34x50.6x2cm (13x20x0.8 inches)

Ten Thousand Nine Hundred and Forty Six Dollars
1 March 2017
Purchased by Tosetti Value
Polyurethane paint on plywood, climbing holds and bolts
122x170x1.5cm (48x67x0.6 inches)

Seventeen Thousand Seven Hundred and Eleven Dollars
28 September 2022
Archival pigment on canvas in tray frame
91x105cm (35.8x41.3 inches)